'ACTIVE SHOOTER': Last words to girlfriend by Marine murdered by Tenn. gunman
Published July 18, 2015
"ACTIVE SHOOTER"
So read the final text message sent by Lance Cpl. Squire "Skip" Wells to his girlfriend, Caroline Dove, before he was gunned down by an Islamic radical Thursday morning in Chattanooga, Tenn.
Dove had been anxiously waiting for an upcoming trip to Tennessee to visit Wells.
She thought he was kidding, replying, "You are so weird."
Then hours of silence.
"I love you," she sent, trying to elicit a response from Wells. Hours more passed, the news out of Chattanooga becoming clearer. "Hon, I need you to answer me please," she wrote.
It would not be until Friday that she learned his fate.
Wells, along with three other Marines, were gunned down Thursday by 24-year-old Mohammad Youssef Abdulazeez, who opened fire on two military facilities before being shot dead by police.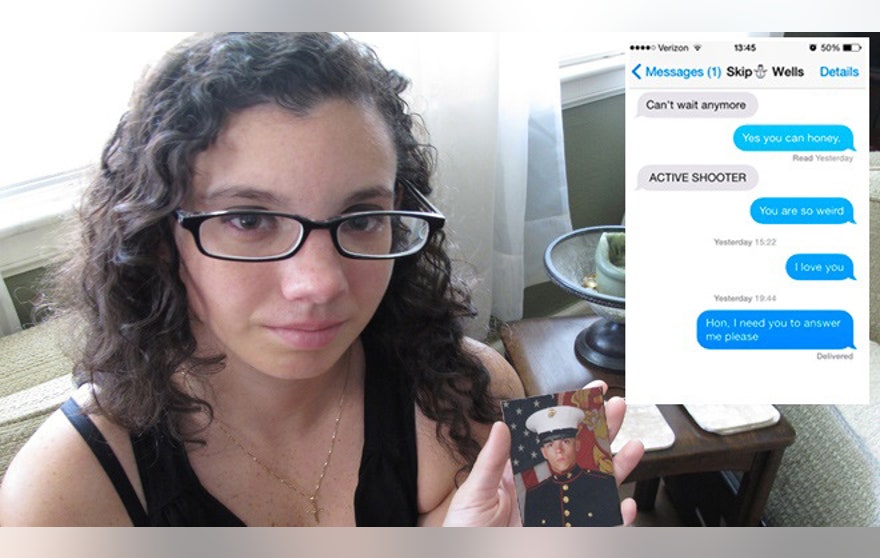 Expand / Contract
July 17, 2015: Caroline Dove holds a photo of Marine Corps Lance Cpl. Skip Wells, her boyfriend, in her hands at her home in Savannah, Ga. (AP)
Wells and Dove met at Georgia Southern University, but Wells soon enlisted in the armed forces.
Through tears, Dove remembered her boyfriend's love of flag football and Nerf guns, his passion for U.S. history, his ability to handle her when she was grouchy and how good he was at listening.
He dreamed of being a drill sergeant, and when they last saw each other around Valentine's Day, he gave her a gold-and-silver ring. When the time came to propose, she said, he knew to ask her parents first.
Wells' mother Cathy was watching television coverage of the shooting when Marines appeared at her door. She knew what the visit meant.
"Every service parent, especially moms, dreads opening the front door and seeing people in uniform," said Andy Kingery, a friend who is acting as a family spokesman.
"My son died doing what he loved for the love of his country and his family," Cathy Wells told Fox News.
Related Image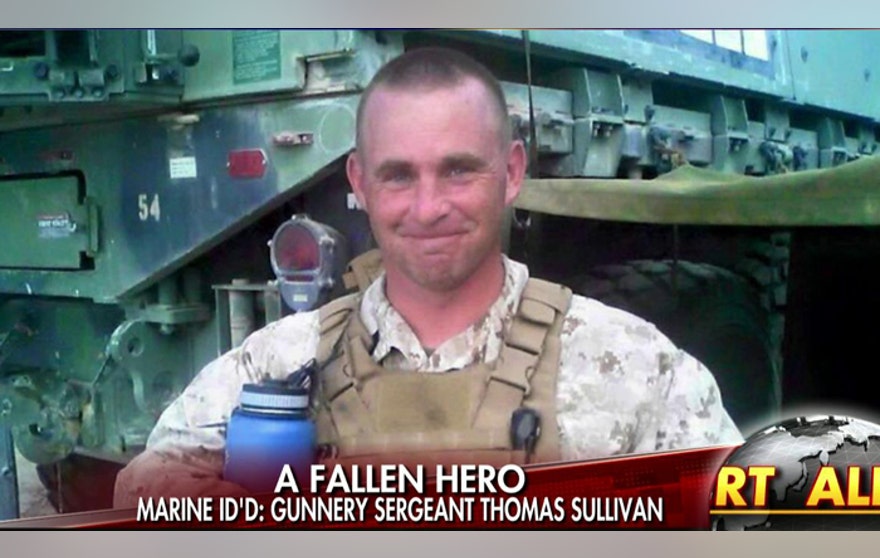 Expand / Contract
Wells' youth pastor at First Baptist Church of Woodstock, told The New York Times the Marine had long sought to serve the nation.
"He had been preparing for military life for a while and looked forward to it," Matt Lawson told the newspaper. "He looked at his time with the Marines as not just an option he had as opposed to some other job. He really felt like it was a calling."
One of Wells' friends from high school, Lindsey Pittman, said the two were "marching band nerds" at Sprayberry High School. Wells played the clarinet, she said.
"He was just a protector," she told the Atlanta Journal-Constitution. "He looked at everyone with love. And he would go anywhere to protect anybody.
"It just doesn't make sense," she said. "It always happens to the good ones."
The three other Marines killed were identified Friday as Gunnery Sgt. Thomas Sullivan, from Hampden, Mass., Sgt. Carson Holmquist, of Polk, Wisc., and Staff Sgt. David Wyatt, of Burke, N.C.
Sullivan served in India Battery, 3rd Battalion, 12th Marines and fought in the 2005 Battle of Abu Ghraib, where he earned a Combat Action medal and Purple Heart.
The Facebook page of a Springfield bar and restaurant owned by one of Sullivan's two siblings posted a message paying tribute to Sullivan.
Related Image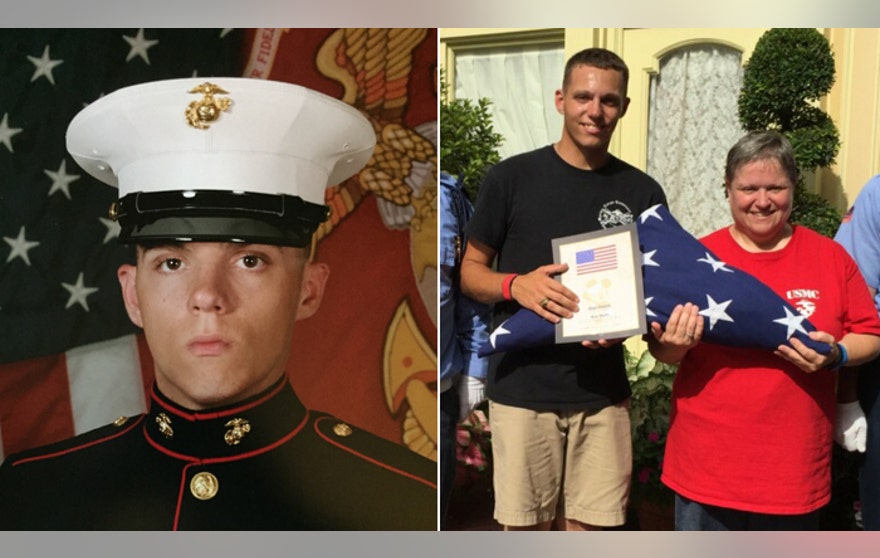 Expand / Contract
US Marine Lance Cpl. Skip Wells, in his military portrait, and with his mother, Cathy Wells, in a photo taken last week at Disney World, where Skip was honored as a service member of the day. (Courtesy: Cathy Wells)
"He was our hero and he will never be forgotten," it read. "Please keep his family & friends in your thoughts and prayers. Thank you Tommy for protecting us."
Sullivan's friend, Josh Parnell, of Chicago, told Oak Lawn Patch, "There's no Marine you would want that was better in combat than him."
On Friday, friends posted tributes to Holmquist on his Facebook page, which was plastered with photos of the American flag.
Related Image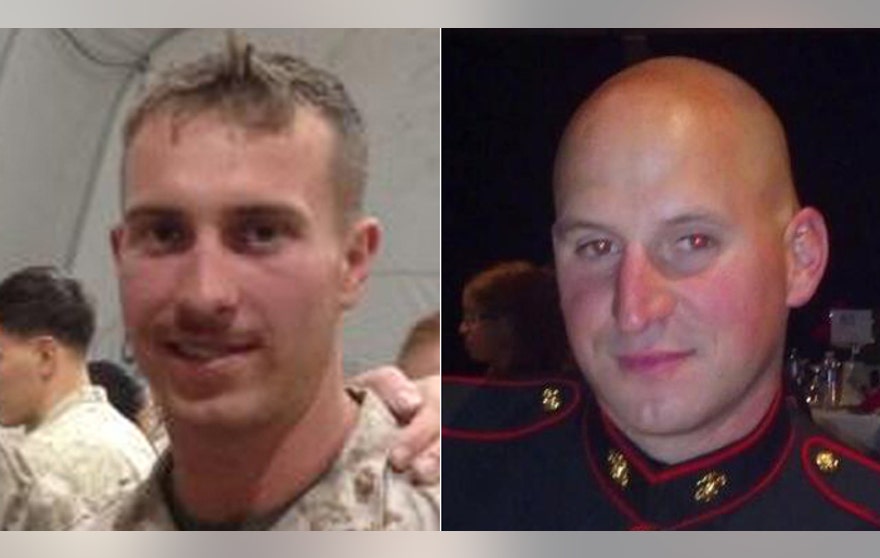 Expand / Contract
Sgt. Carson Holmquist, of Grantsburg Wisc.,(l.), and Staff Sgt. David Wyatt, of Chattanooga, (r.), were gunned down Thursday.
"You will be missed bud," wrote one friend.
Holmquist, 27, was originally from the western Wisconsin community of Grantsburg but had recently moved to Jacksonville, N.C., with his wife Jasmine and their new born son Wyatt. Holmquist's mother told  KARE11, a news station based in Minneapolis, that military personnel showed up at her door Thursday evening and she and her husband were overwhelmed by the news.
"[We are] just trying to make it through the day," she said.
Abdulazeez attacked a military recruitment center in Chattanooga, spraying the strip mall facility with gunfire from his silver Mustang before driving, with police in pursuit, to a Naval training facility seven miles away, where he killed the unarmed Marines.
Three other people —  a Navy sailor, a Marine Corps recruiter and a police officer — were wounded in Thursday's attack. Sources told Fox News early Friday that the sailor, who is in serious condition, underwent surgery and made it through the night much to the relief of doctors. The police officer was shot in the ankle. The recruiter was wounded in the leg and has been released from the hospital.
The remains of the Marines are en route to Dover, Delaware, a Marine Corps spokesman said Friday afternoon.
Fox News' Jennifer Griffin and Alyssa Moni contributed to this report.