Training exercise gone awry? or as planned?
by INFOWARS.COM | AUGUST 4, 2015
---
Soldiers at a Jade Helm military exercise training site in Mississippi reported hearing gunshots near the facility Tuesday before noon, according to police.
From CBS News:
Perry County Sheriff Jimmy Dale Smith told WDAM-TV that the soldiers were training at Camp Shelby Joint Forces Training Center near Hattiesburg.

Mississippi's National Guard said soldiers training at Camp Shelby reported hearing shots fired at 11:45 a.m. along Peret Tower Road, near the training facility. The facility is secure and all personnel accounted for and unharmed, the guard said in a news release.
The facility, Camp Shelby, described as "the largest state-owned and operated field training site in the United States," is one of two locations in Mississippi where US Army Special Operations Command is currently conducting the controversial eight-week Jade Helm training exercise.
Back in March, Infowars reported that, in addition to the seven initial southwestern states, Jade Helm operations would also be run out of Mississippi and Florida.
Jade Helm Operations Planner and retired Green Beret Thomas Mead told the Brazos County Commissioners Court that NAVY Seals would "be conducting targets and training down in the Mississippi area."
"The exercise is actually an eight-week exercise taking place across seven states," Mead said. "As you can see right there, it spans the whole southwest of the United States. We've also added Mississippi and we have a group also working out of Florida."
"We'll have Navy Seals that'll be conducting targets and training down in the Mississippi area."
The "Mississippi area" referred to is presumably one of the locations revealed on slide 6 of the now-infamous Jade Helm powerpoint slide show, which designates the Camp Shelby training site and the Naval Small Craft Instruction and Technical Training School at Stennis Island as SOTF (Special Operations Task Force) training spots.
"[Camp Shelby] is currently hosting about 4,600 active-duty soldiers, National Guard and reservists from Texas and Mississippi in a summer training exercise," reports CBS, though they discuss an exercise entitled "Exportable Combat Training Capability," which "focuses on coordinated efforts of individual soldiers acting as a platoon."
Police were originally looking for "two white males" who fired from a vehicle which they later located, though reports claim the men driving the truck "are not under arrest or being charged at this time."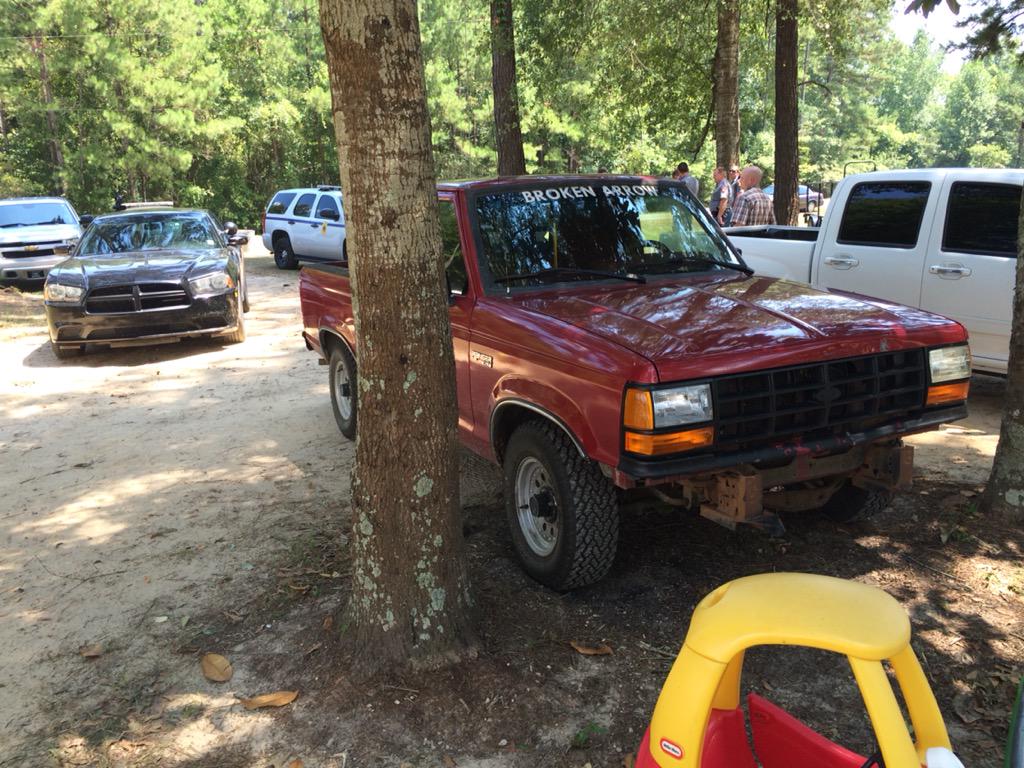 Follow

Ryan Moore

✔@RyanMooreMS

Front view of the vehicle recovered in 600 block of Old Augusta Road.
As Infowars has pointed out, the Jade Helm exercises will entail soldiers operating "undetected amongst civilian populations" with "some participants… wearing civilian attire and driving civilian vehicles…"
"They're going to set up cells of people and test how well they're able to move around without getting too noticed in the community," described the chief deputy with the Victoria County Sheriff's Office. "They're testing their abilities to basically blend in with the local environment and not stand out and blow their cover."