Senate Can't Stay Silent – It is Time to Debate the JUSTICE Act
CALL NOW! CALL NOW! CALL NOW!
DONATE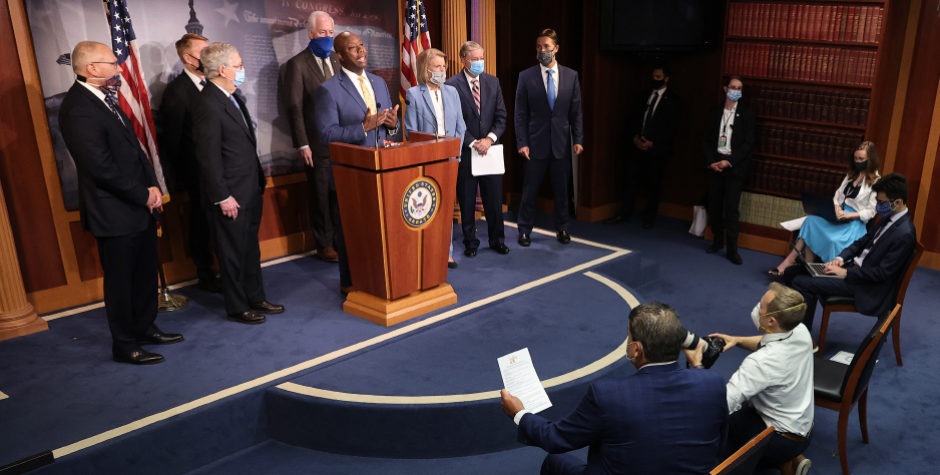 Public Policy
The Senate Can't Stay Silent – It is Time to Debate the JUSTICE Act
By Jordan Sekulow yesterday
As we told you yesterday, the U.S. Senate is poised to consider the Just and Unifying Solutions to Invigorate Communities Everywhere (JUSTICE) Act. This legislation, sponsored by Sen. Tim Scott (SC), is an important first step toward addressing the inequality that many black Americans encounter in law enforcement.
We as Americans have much to be proud of when it comes to our system of justice, and we should all be tremendously grateful for the men and women of law enforcement who put themselves in harm's way on a daily basis for our well-being. We can all also agree that even one injustice that causes a loss of life is too many, and there is much we can do to be even better going forward.
The American people understand both the importance of law enforcement and the need for ever-greater equality under the law. The American people understand and agree that it is time for our elected officials to lead on this issue. Unfortunately, it is not yet clear that enough of our elected officials have reached the same conclusion.
The shocking reality is that the U.S. Senate may not even have the 60 votes required to BEGIN debate on the JUSTICE Act. One might assume that debate on an issue of this magnitude would be automatic in the U.S. Senate. Unfortunately, that is not the case. It will take 60 votes to even BEGIN debate on the Senate floor.
All 53 Republican Senators (including Sen. Scott and Leader McConnell) are expected to vote to begin debate on the measure, but it will require that at least seven Democrat Senators vote with them if there is to be a debate. Voting to begin debate does not in any way bind a Senator to supporting the bill in the end. But it is, in fact, the only way to ensure that every Senator has an opportunity to both debate and vote on the measure. It would be a travesty to deny the families of the victims involved a debate on these reforms.
That is why the ACLJ is calling on every Senator to vote to begin a debate on this critical matter. (You can learn more about the legislation and our analysis here.) You can stand with us in this demand. There are three specific actions you can take:
Sign our petition calling for Responsible Police Reform.
Contact both your U.S. Senators and ask that they vote to begin debate on the JUSTICE Act. The U.S. Senate switchboard is (202) 224-3121.
Contact the following U.S. Senators and ask them to vote to begin this important debate on the floor of the U.S. Senate:
Sen. Cory Booker (NJ) – (202) 224-3224
Sen. Bob Casey (PA) – (202) 224-6324
Sen. Chris Coons (DE) – (202) 224-5042
Sen. Kamala Harris (CA) – (202) 224-3553
Sen. Doug Jones (AL) – (202) 224-4124
Sen. Tim Kaine (VA) – (202) 224-4024
Sen. Joe Manchin (WV) – (202) 224-3954
Sen. Jacky Rosen (NV) – (202) 224-6244
Sen. Bernie Sanders (VT) – (202) 224-5141
Sen. Jeanne Shaheen (NH) – (202) 224-2841
Sen. Kyrsten Sinema (AZ) – (202) 224-4521
Sen. Jon Tester (MT) – (202) 224-2644
Sen. Elizabeth Warren (MA) – (202) 224-4543
The American people know the truth. Law enforcement plays an essential and positive role in our society. But it is time for commonsense reforms. The U.S. Senate should begin the debate.SignDonateShare
Vote on Critical Police Reform
Read the full text of the petitionPublic Policy 22,773  Signatures
Source:
https://aclj.org/public-policy/the-senate-cant-stay-silent–it-is-time-to-debate-the-justice-act