Be Aware:
Regarding COVID19 Los Angeles: Do not buy into the bleak future Mayor Garcetti is trying to get you to believe. The number's Garcetti is using are skewed. We know some hospitals are counting people who have the same symptoms as coronavirus – however the hospitals really don't know whether they have it because THEY ARE NOT TESTING ANY OF THEM TO VERIFY THEY HAVE IT! Doctors are signing off on this, why?
Those are the same tactics many of the leftist blue states have been using to bolster numbers to garner more money through the "Stimulus/Relief" Aid and as a bonus make Trump look bad! Also doctors are listing the coronavirus as cause of death without listing the underlying health issues such as diabetes, heart condition, lung disease or whatever else has put these people in a compromised state enough to succumb. If your going to list the last thing they died from it is always heart failure. They think we're stupid.
They, the left, the Democrats, the usurpers, the traitors, have not changed their agenda one bit. They clearly do not care one iota about you or yours! Just look at that same Relief Aid Trump signed that took longer because Pelosi wanted to fund Planned Parenthood, hold elections by mail, fund the Kennedy Center, and so much more nonsense. Voting is my right and civic duty if I'm to govern myself. In particular I don't want one of my pennies going to killing babies conceived. That power is not derived from nor does it belong to Pelosi's Masters.
Representatives of Los Angeles and California are tantamount to more than an overreaching government, they are outright abusing their powers like tyrants. They are making it up as they go along and intimidating you into submission. Overreaching at the least, treason at most!
Los Angelean's need to fight back NOW! Eric Garcetti and Alex Villanueva DO NOT HAVE THE AUTHORITY TO ORDER GUN STORES CLOSED OR BAN BUYING AMMO! Nor do they have the right to keep you imprisoned in your homes based on false evidence! This charade must end now! The cure and protocol for COVID19 has been successfully created and used with phenomenal results! This is a miraculous start!
You need to call them immediately and tell them this is exactly the time citizens need to protect themselves so stop pigeon holing us into victims! Open the damn gun stores now and remove their illegal 'sales ban' of ammunition! Also send them the above video and share it today! People need to know, so does Garcetti!
Garcetti and Villanueva must CEASE AND DESIST IMMEDIATELY
Contact Ideas:
Tweet him into oblivion – Alex Villanueva (@LACoSheriff) Or write https://lasd.org/pdfjs/complaint-english.pdf Or call 1-800-698-TALK
Tweet him your sentiments: Eric Garcetti (@ericgarcetti) Or call 213-978-0600 / 213-978-1028 Or write https://www.ericgarcetti.com/contact-us
Wake up Los Angeles! What they are doing to our way of life is criminal! They are illegally issuing orders that go against you and your God given rights. They are sending law enforcement and prosecutors to your doors to enforce this illegal takeover, this isn't America, this is the "GESTAPO"! They want you cowering in your homes!
These out of control representatives do not have the authority to endanger Americans with draconian tactics or usurp our laws! We have the right to bear arms WITHOUT INFRINGEMENT! We especially have the right to unencumbered truth! They work for us, they are out of control and if we do not fight back now we may never get our liberties back! It's all a test! They are waiting to see how far they can push as they chip away at our rights! Do not let that happen! This is their ploy right now and they are not going to ever stop! Only you can end it. Call them, write them and tell everyone you know!
You know what is ".. irresponsible and selfish" Mr. Garcetti? Your ill fated attempt at playing dictator based on lies. We see you and we see right through you! You will be judged and/or ousted based on your questionable performance during this crisis! Shame Mr. Garcetti, Shame Mr. Villanueva Shame! You both have misinterpreted your roles and are now derelict in your duties.
LA Mayor To Cut Off Water & Power Of "Irresponsible, Selfish" Stores That Remain Open
Earlier, Los Angeles County Sheriff Alex Villanueva ordered all gun stores closed (fearing that too many first-time gun-owners were getting access to weapons), and now LA Mayor Eric Garcetti lashed out at non-essential stores that refuse to close, making an ominous threat.
After reflecting on the first COVID-19 death of a teenager in L.A. County, he went on to announce actions against nonessential businesses that don't close.
"This behavior is irresponsible and selfish," he said of those that remain open.
He said the Department of Water and Power will shut off water and power for the businesses that don't comply with the "safer at home" ordinance.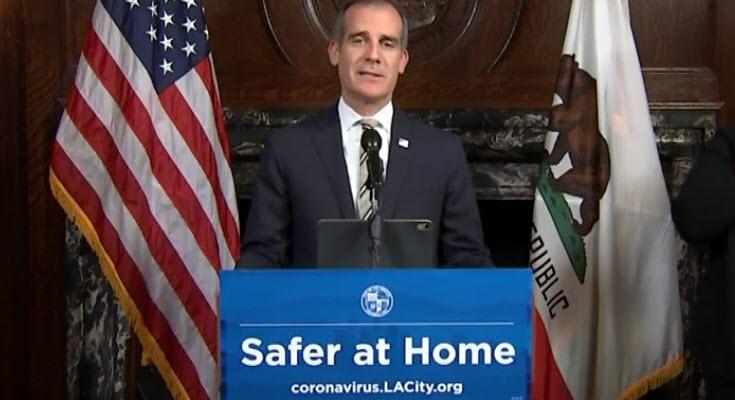 Neighborhood prosecutors will implement safety measures and will contact the businesses before issuing further action, according to Garcetti.
"The easiest way to avoid a visit is to follow the rules," he said.
This all seems to be accelerating down the extremely slippery slope towards full authoritarian control – something the politicians will be unwilling to easily give up once this crisis blows through.
Finally, the mayor said L.A. is six to 12 days behind New York in being hit with a wave of positive cases.
"The peak is not here yet," he said.

"It will be bad… We need to be prepared for some of the darkness that is ahead."
L.A. County had 669 confirmed coronavirus cases as of Tuesday, with 11 deaths. The state had 2,566 cases with 51 deaths.
Source: https://www.zerohedge.com/political/la-mayor-cut-water-power-irresponsible-selfish-stores-remain-open